Written in response to a letter stating that the hate crimes law would cause letter writers to be fined or jailed for expressing their views:
Americans Have Right to Hate

In exercising his right to free speech, Mr. ******* propagated some misinformation in his letter of October 28th.

This country protects the right of free speech for its citizens more fiercely than any other nation in the world. People have exercised this right by criticizing our President, a few going so far as to equate him to Hitler. Others have called Republicans fascists and Democrats immoral or un-Christian. They were not arrested.

On October 28th, President Obama signed the Defense Authorization bill into law. Attached to it was the hate crimes bill, also known as the Matthew Shepard and James Byrd Jr. Hate Crimes Prevention Act, of which Mr. ******* warned us so ominously.

People will continue to exercise their right to criticize our President, a few going so far as to call him a racist. They will not be arrested.

The Westboro Baptist Church will plan their next protest at the funeral of a soldier killed in Iraq, holding signs that read "Thank God for dead soldiers." They will not be arrested because they will remain on public property.

The signs I've seen on... my way to work saying, "Obama is a liar," etc., will still be there. The owner will not be arrested.

Hate becomes a crime when a man is attacked because he is gay, and beaten so severely that he dies five days later. Hate becomes a crime when a man is dragged to his death behind a car because he is black.

With freedom comes responsibility. And part of our responsibility as citizens is to avoid taking everything we read or hear at face value. We must seek the truth, including the truth that hate speech is still protected speech in this country.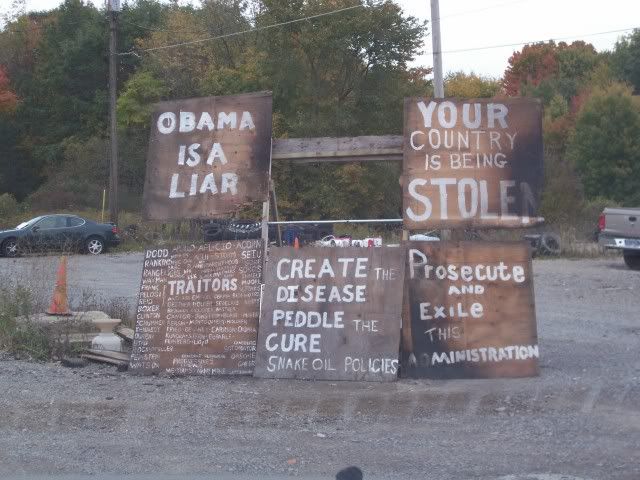 This display has grown to three times this size. I took this picture a few weeks ago, anticipating a blog about free speech. It turned into this letter.
In tonight's paper: Number 6
Current Mood:

tired