KDKA's Soap Star Spectacular,
which supports breast cancer education and research. This event featured actors from CBS soaps. Van Hansis was the only actor from "As the World Turns" to appear.
I live just an hour away from Pittsburgh, so I could not pass up this opportunity to meet him again. Van studied acting there at the Carnegie School of Drama, so this was a coming home of sorts for him.
The VIP ticket's price included a meet and greet with the actors. There were long lines for many of the other actors; Van's line was fairly short. Goes to show that ATWT really isn't as popular as the other soaps, I guess. People just don't know the awesomeness that is Van!
We received a nice brochure with pictures of all the actors that fans could get signed. I had something else in mind. Recently, Troy made a mix CD for me and used his artwork as the cover.
This is the picture he gave to Van when he met him a year ago
(I called this album "Van Cap" when I loaded it into my iPod). So, I had Van sign that. :)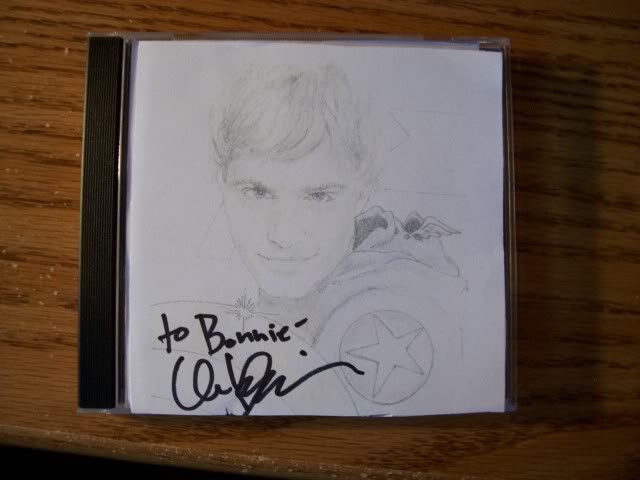 I wore my Pittsburgh Comicon shirt from this year, which Van noticed and commented on right away. I gave him two copies of the brochure from the con (one for Jake). He's such a geek – I love it. He started talking about the artwork on the back. I said I'm pretty ignorant about comics and that I go for the costuming opportunities, and he was like, "Oh, yeah! Who did you go as this year?" So I told him about that. You can read about it
here,
if you're curious.
I love the expression on Van's face in this first picture.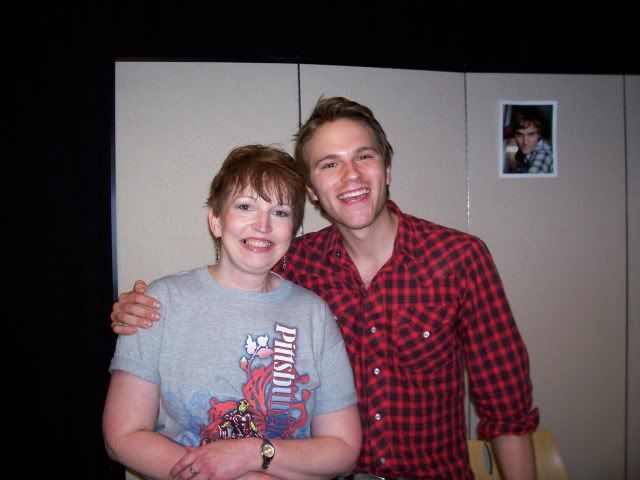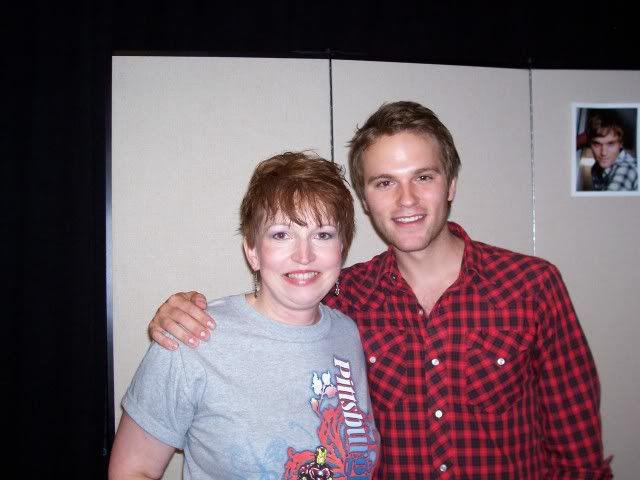 Afterward, I hung out and talked with others who had come to see Van. Some were in lines for other actors, but Van was the only one I was interested in. After awhile, the line thinned even more, and a few of us decided we could go for "seconds." ;) When others came in behind us, we told them to go ahead of us. Eventually, I was back up front, and I showed him a photo of me as Adam Lambert. He loved it, and looked through the whole mini-album I had with me (I always have costuming pics!).
All of the stars had assistants, who would take pictures for us, get water or anything else for the actors, etc. The young lady who assisted Van eventually got her picture with him, also. She had not known who he was, but he's just so sweet and genuinely enthusiastic, how can you not love the guy?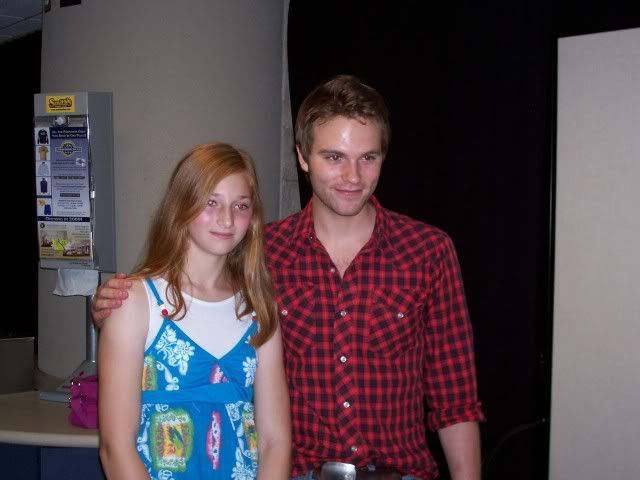 Several of us ended up chatting with Van, ushering people up who came into the line, "C'mon up! We're just hanging out." A professional photographer snapped a picture of all of us.
http://suecoflin.photoshelter.com/gallery-image/06-13-10-Soapstar-Spec-Y-R-BB-GL-ATWT-1-of-2/G0000KLB6.9y8WaU/I000016uLn7ZJccE
Stuff Van said: The show has about seven episodes left to tape. Everyone is pretty cool about it, having had six months to get used to the idea (I imagine the last day will be tough, though.). He said he'd just gotten in Saturday afternoon. He rented a car and drove all around Pittsburgh, through all the places he'd been when he lived there.
Van sits on the table as he talks with us.
BTW, the event was in a part of Pittsburgh known as Oakland, which fans kept inadvertently calling "Oakdale." ;)
After a bite of some overpriced, but pretty good food, we headed to our seats for the main event.
Part one was fan questions. No one asked Van anything the VIP'ers hadn't asked previously. ;)
Part two was reenacted soap opera scenes with participation from actors and selected fans. There were extra characters in the scene, which allowed actors to improvise and attempt to steal the scene. In one scene, several actors and fans played mannequins with Van as the mannequin dresser:
For the "Nuke" scene, they sought out a "Noah." Of course we girls piped up, "We can be Noah!" They picked a guy, but Van also picked Annisa, so there were two Noahs. Don Diamont was playing a doctor exercising on the roof (the infamous hospital roof) while the scene took place. He had some fun with Annisa. ;D Afterward, she laughed as she returned to her seat. Van looked over and smiled, knowing she would never forget that!
http://suecoflin.photoshelter.com/gallery-image/06-13-10-Soapstar-Spec-On-Stage-2-of-2/G0000WICVJQleBis/I0000LILyBwRU8aA
Part three was questions from the emcee. More than one actor answered the same question. As Van answered the question of why he chose to be an actor, he commented that it felt like group therapy. ;)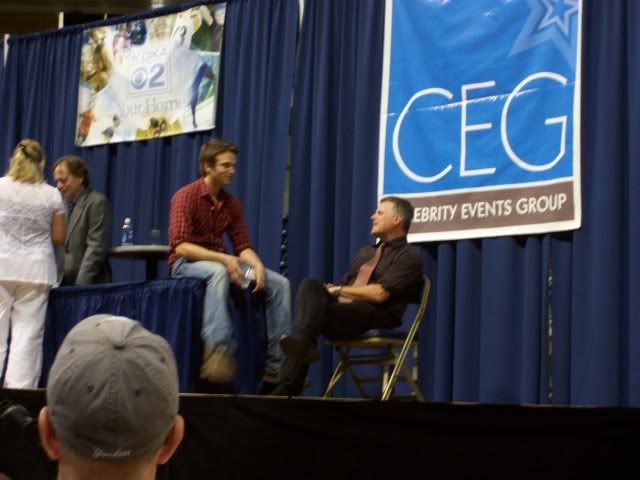 (Van likes to sit on tables!)
I'm very glad I splurged on the VIP ticket. Van has been on the show since 2006, but that doesn't exactly put him front and center. Most people don't have a clue who he is, but, between his talent as an actor, his good looks, his intelligence and his common sense, I feel he has a very successful career ahead of him. I am excited to have met him this early on.
I spent this past Sunday in Pittsburgh for
Current Mood:

satisfied