belluthien
and I got up very early to get ready for the parade. I have decided that Galadriel's Grey Havens wig is too damaged to wear again after this. I will buy a new one for ALEP 2.
I made pretty good time and left, but then had to return because I'd forgotten my badge. By the time I got back outside, the sidewalks were getting crowded, which made me feel a little bitchy. If I had been dressed as Bellatrix, I probably would have shouted for people to move, but I was Galadriel, and decided that was too out of character. ;P So I slowly made my way through the standing crowds towards the gathering areas for the parade. I saw Yvette's Alien group first, so I got a picture of them before finding the Tolkien people. I snapped a few pictures while we waited for the parade to start.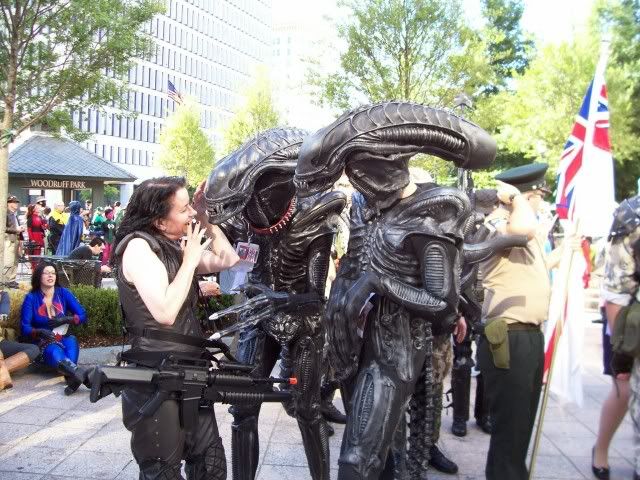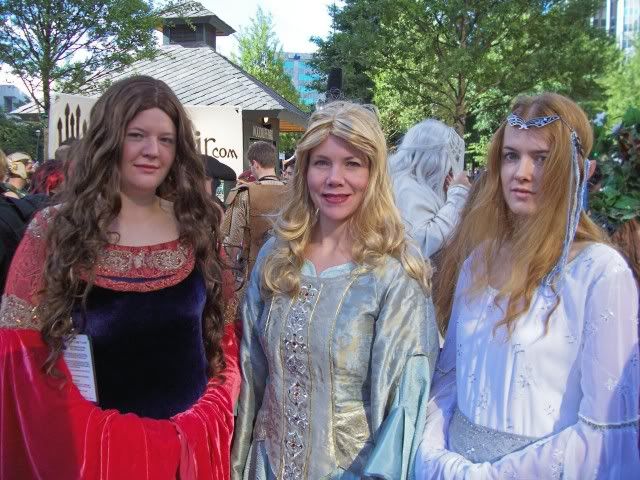 In this photo:
mellymel
,
sistersola
,
finarfiniel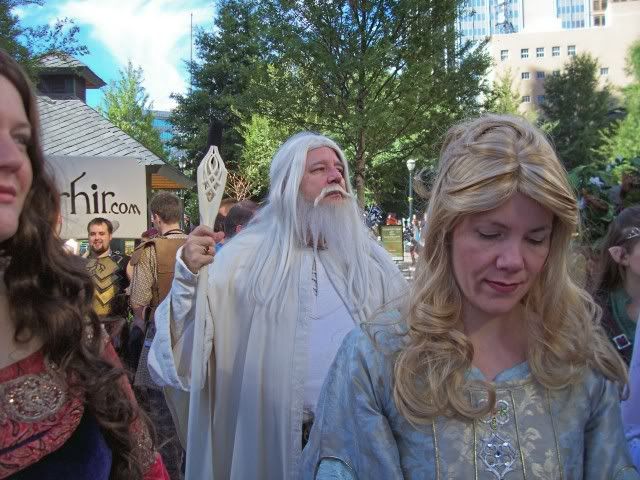 Although there was a band playing drums in one of the groups ahead of us, after a bit, they had put some distance between them and us. We had
hazelrah1
with us, and that electric wheelchair only goes so fast. I didn't mind. It was a more proper Elvish pace. The guy who is always in the parade with his bicycle rode in circles in the generous space between our groups, so it worked out well for him, too.
Once the drums were farther away, I lead the singing of "Into the West," which we always do. I did it in the original key – I'd promised the Elvish singing panel that I would – so it wasn't too low for Kate and others to sing along. ;)
After the parade, I made my way back up to the room to freshen up, then texted my fellow Nukie, Angela, who lives in Atlanta and had come to see the parade. We met up for lunch and chatted for about an hour or so, and got some pictures taken. Her kids were very enthusiastic about D-Con.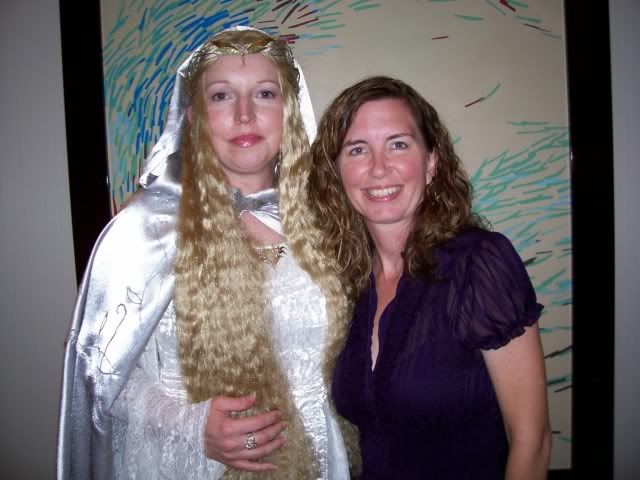 After they left, I hung with
amaz0n_princess
and
rgusmc1
and Mellymel while they got lunch.
As I was reading something with my handy-dandy magnifying lens (in lieu of reading glasses), J said, "Oh, I'll be needing to do that someday." I said, "I resisted for a long time, but after I turned 45, I really couldn't deny it anymore." She looked incredulous and said, "How old are you?" I said, "48." She said, "Oh, my gosh, you're my mother's age!" Her mother gets mistaken for her older sister, so maybe it shouldn't have surprised her so much. ;)
After wandering around the dealer rooms for awhile, I made my way back to the room to change into Gerard. Yvette was already transforming from Ripley into Julien. This always takes awhile, and of course, I missed the leather panel given by Michael Cook. I hung with Yvette for quite awhile, as Gerard is Julien's companion, and we are meant to be a pair. For a time, we were pulled into a group of women in period dresses, who were also quite tall, compared to Julien and Gerard. Perhaps there was Entdraught available nearby. ;)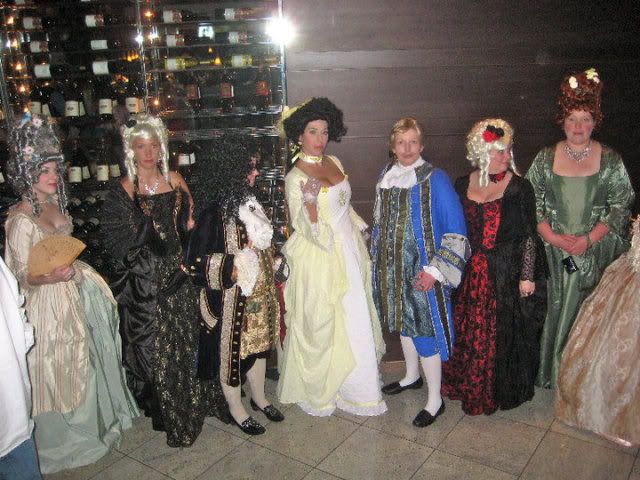 Photo by Rosalind Friday on Facebook
As time went by, I felt myself growing more and more exhausted. I'd been up since 6am, and on my feet for much of that time. At 10 pm, I told Yvette I wanted to attend a panel for the Young Lit track about GLBT issues in Y.A. It was a lively discussion, and, since I spend a great deal of time with young people and parents who are struggling to come to terms with their own or their child's sexual orientation, it was refreshing to be among so many who were confident and outspoken in their opinions. And frankly, it also felt really good to sit down for an hour.
Yvette would have like me to rejoin her after the panel, but I just wanted to go to the room and get comfortable and sleep.
All weekend – especially Saturday – there was a vague "unsafe" vibe in the air that I had not felt so strongly in the past. There were a host of football fans at the con who seemed bent on getting drunk and stupid. I spent too many years playing in a band and watching people getting drunk and stupid. It wasn't fun then, and it isn't now. I would also learn after the fact that several con goers were sexually assaulted or mistreated in some other way. So, I guess that's where the drunk and stupid parts come in. There has been a great deal of posting about that on LJ, and I know the Marriott and Dragon*Con, as well as the LSU college football franchise, are hearing about it. This con has grown beyond the abilities of the hotels' regular security detail, and they need to address it before something worse happens.
Saturday,