He also gets credit for acknowledging that DADT repeal would not have happened without LOTS of other people pushing and keeping this on the radar (This is a switch from last year's signing of the hate crimes law, where only a handful of people, including the overly-accomodating Human Rights Campaign, were present)
Some of the people and groups who were responsible for getting this passed:
Servicemembers Legal Defense Network led by Aubrey Sarvis
Servicemembers United led by Alexander Nicholson
The National Equality March on Washington, October 11, 2009.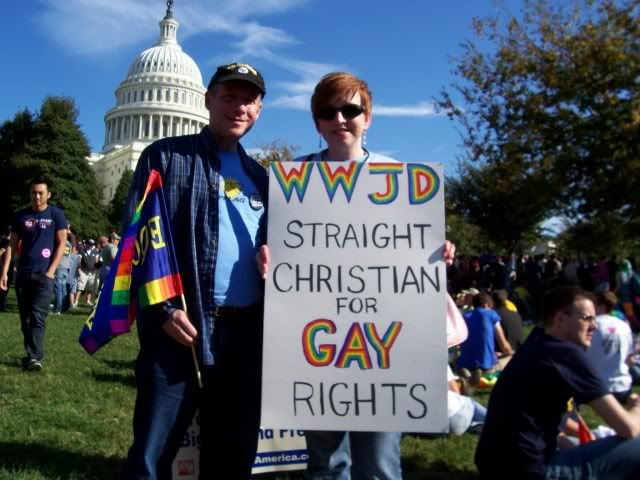 Michelangelo Signorile,
who has been working on this for over 20 years.
The blogosphere (a couple local favorites slipped in here):
http://www.americablog.com/
http://www.goodasyou.org/
http://www.joemygod.blogspot.com/
http://pamshouseblend.com/
http://www.pghlesbian.com/
http://www.rodonline.typepad.com/
http://thomascwaters.com/
http://www.towleroad.com/
And thousands of regular people who called/wrote/visited their legislators.
Along with Obama, other politicians and administrators stepped up:
Joe Lieberman
Secretary of Defense Robert Gates
Admiral Mike Mullen
Barney Frank (who dealt with an ignorant question about showers from a right wing Christian "news" reporter in the video below)
And especially PA Rep. Patrick Murphy, who sponsored DADT repeal in the House
twice,
despite his being in a conservative district (He lost his re-election bid).
Another major factor was the recent federal court decision on the Log Cabin Republican's (who endorsed Patrick Murphy's opponent, BTW) lawsuit that DADT is unconstituional, which caused the government and the military to urge Congress to repeal the law and put control of implementation in the hands of the military, and not the courts.
But probably the biggest factor was Dan Choi, who has become the face of "Don't Ask, Don't Tell." He joined with
Get Equal,
which led numerous, well-publicized protests that disrupted government offices and interrupted President Obama's speeches, much to his annoyance. But they were extremely effective.
Here is Dan Choi's
Angel of the Year Award,
the "audio statuette" given by the Michelangelo Signorile Show.
President Obama gets credit for starting the ball rolling on "Don't Ask, Don't Tell" repeal. He gets credit for letting congress know he wanted this done. He gets credit for signing the bill.
Current Mood:

hopeful